0086-0512-62901304

0086-0512-62901305
0086-0512-62901305


lzmjmx
lzm@yueniao.com

zzl@yueniao.com

alnew@yueniao.com

Suzhou Yueniao Machinery&Electronics Imp&Exp Co Ltd
.
Off Grid Solar Power Kit
The Solar-Power-Generator is a revolutionary way of cost saving in renewable energy generation.
The solar panels produce what's called DC current. A device called an inverter is required to change the DC power generated by your solar system into AC power that most appliances can use.  An inverter is an important piece in your overall solar energy plan.
Off-grid solar power gives people all over the world the electricity to power their homes.   With off grid power you are your own electric company. When the sun shines you store excess electricity in batteries and draw it out later. An off-grid inverter can convert the DC energy from solar panels and batteries into AC electricity which powers normal appliances.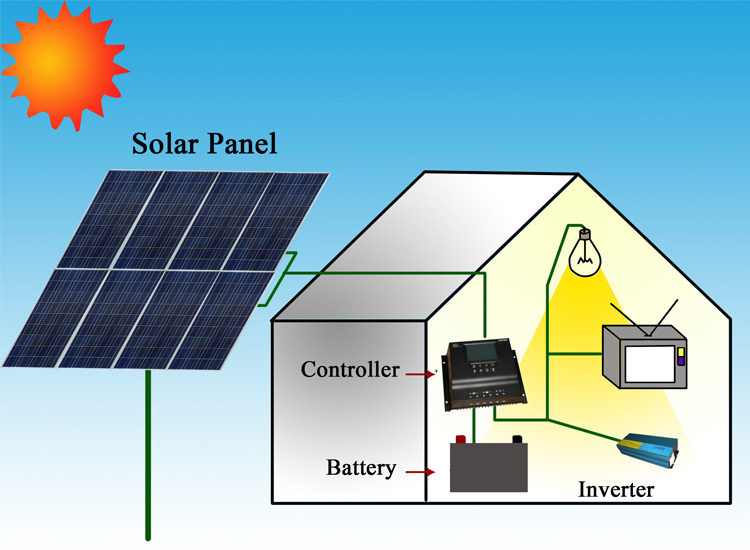 4,800W/96V Off Grid Solar Power Kit, YSP-4.8KW

This kit Includes:

16 x 300 Watt Framed Solar Panel with 25 year limited warranty

(Support rack for solar panel can be supplied upon request)

1 pc of 50 Amp Charge Controller

8 pc of 12V/200Ah batteries

1 pc 5KW Off Grid DC to AC Inverter

300W Polycrystalline Solar Panel

Cell: Poly-crystal silicon
No. of Cells and Connections: 72 (6 x 12)
Maximum Power(Pm): 300W±3%
Maximum Power Voltage (Vpm): 36.78V
Maximum Power Current (Ipm): 8.16A
Open Circuit Voltage(Voc): 44.27 V
Short Circuit Current(Isc): 8.93A
Module Efficiency: 15.47%
Dimensions: 1956 x 992 x 40 mm  
Weight: 22 kg
Operating temperature: -25°C~55°C
Warranty: 25 years power output guaranteeCertificate: CE, ROSHS, IEC, TUV, CSA

4,800W/96V Solar Charge Controller

Rated solar Input

50A

Rated System Voltage

96VDC

Max. Solar Voltage

59V

Self-Consumption

≤90mA

Acceptance Voltage Set point

84-118VDC

Type of Charging

High efficient Series PWM charging with temperature compensation

Electronic Protections

Reverse Polarity, Short Circuit, Overcurrent, lightning, Transient Surges, High Temperature, Reverse Current

Operating temperature

-25 ~ +55C

Humidity

≤90%

Shipping Weight/Dimension

12 kg/ 410x280x475mm

Output power

5,000 watts  continuous power/10,000 watts peak power

Output voltage

100/110/120/220/230/240VAC

Optimum efficiency

>90%

No-load draw

<0.6A

Output wave form

Pure Sine Wave

Input voltage range

94~118VDC

Over voltage shutdown

120V

Under voltage shutdown

80V

Over load shutdown

8,000W

Low voltage alarm

Audible

Protection

Over voltage, Under voltage, Low voltage, Over load, Overheat, Short circuit

Warranty

3 year

Shipping Weight/Dimension

30 kg/560 x 240 x 550 mm

Battery Bank

8 x 12V/200Ah GFM Batteries

Wiring
Maintenance free Lead Crystal Battery
New Technology
The invention of the lead crystal battery is a breakthrough in battery history. Based on the composite electrolyte and proprietary intellectual property rights, makes the reaction of the electrolyte formation caused the forming for the crystal state.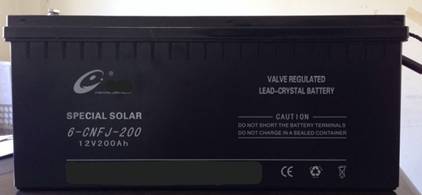 Advantages
1. Ideal green and environmental protection battery.
Lead crystal battery is using special SIO2 composite electrolyte to replace the sulfuric acid solution of traditional lead-acid battery. The electrolyte is non-toxic, non-smell, to surrounding environment.
2. Excellent high and low temperature operating characteristics
Working temperature from -40°C~65°C
3. Easy for depth discharge
Working life of is no effected by the general over-discharge.   Excellent recovery capacity of charge-discharge.
5. Long working life
Lead crystal battery can work for 10 to 15 years,  and charging time is 25% faster than normal lead-acid batteries and gel batteries.
| | |
| --- | --- |
| Item | 6-CNFJ-200 |
| Nominal Voltage | 12V |
| Nominal Capacity | 200Ah |
| Working Temperature | -40°C~65°C |
| Dimension  | 330 x 172 x 214mm |
| Weight | 62  kg |
| Terminal type | A/F |
| Charge Cycle | 1000 |
| Working Life | 10 – 15 years |
Errors expected and possible alternations without prior notice