0086-0512-62901304

0086-0512-62901305
0086-0512-62901305


lzmjmx
lzm@yueniao.com

zzl@yueniao.com

alnew@yueniao.com

Suzhou Yueniao Machinery&Electronics Imp&Exp Co Ltd
Wind Generator

WFD500W
An attractive, reliable and economic source of electricity for remote areas.  Enough power for lights, radio, television, fan, kitchen appliances, microwave oven, washing machine, power tools and more, depending on the average wind speed.  The ideal source of power for telecommunications and scientific equipment.
The WFD500W is used to charge  24V/36V or 48V batteries.   Equipped with suitable grid tie inverter, it can also connect to grid.
It is especially designed to meet the demand from individual householders for a renewable energy source.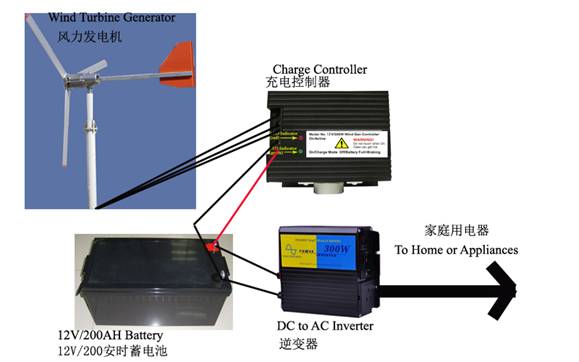 Wind Generator

Model

WFD500W  

Rated Power

500W  at rated wind speed  

Max Power

600W

Kilowatt Hours Per Month

77 kWh/month /average 5.8 m/s

Voltage Options

24V, 36V& Grid Tie

Start Wind Speed

3 m/s

Rated Wind Speed

10 m/s

Survival Wind Speed

40 m/s

Cut-Out Wind Speed

12 m/s

Over speed Protection

Auto Furl and Electric Brake

Temperature Range

-30°C~60°C

Rotor Diameter

2.0 m

Swept Area

3.14 m2

Rotor speed

580 rpm

Rotor Starting Torque

0.4 Nm

Blade material

Aluminum Alloy

Rotor thrust(at 20 meters/second)

175 Newton

Generator

3 phase Neodymium permanent magnet alternator

Noise

Max 1-3 dB above background

Tower top weight

26 kg
500W Battery Charge Controller( option )

Model

500W-24

500W-36

500W-48

Rated output power

500W

Input voltage range

24~30 V

36~45 V

48~59 V

Rated battery voltage

24 V

36V

48 V

Max input wind power

550W

Over charge protection

30 V±0.5V

45 V±0.5V

60 V±0.5V

Recommended battery

24V /150AH

36V /150AH

48V /150AH

Maximum Input Current

23 A

15A

12 A

Protection Function

Over charge,  battery reverse-connection ,   load short-circuit, wind turbine automatic brake.

Shipping weight/dimension

1.8 kg/230 x 120 x 70 mm
500W Off Grid Inverter ( optional )

Model

PI-500-12

PI-500-24

PI-500-48

Output power

500 watts  continuous power/1000 watts peak power

Output voltage

100/110/120/220/230/240VAC

Optimum efficiency

>85%

No-load draw

<0.6A

Output wave form 

Pure Sine Wave

Input voltage range

10~15VDC

21~30VDC

42~60VDC

Over voltage shutdown

15.5V

30.5V

61.2V

Under voltage shutdown

9.5V

19.5V

42V

Over load shutdown

120%

Low voltage alarm

Audible

Protection

Over Voltage , Under Voltage, Over load, Over Heat, Reverse Polarity, Short-circuit , Ground fault, Output Transient Voltage.

AC receptacle

2 x 3 prong receptacles

Shipping Weight/Dimension

1.4 kg/210 x 150 x 70 mm
6 meter height wire guyed tower (optional)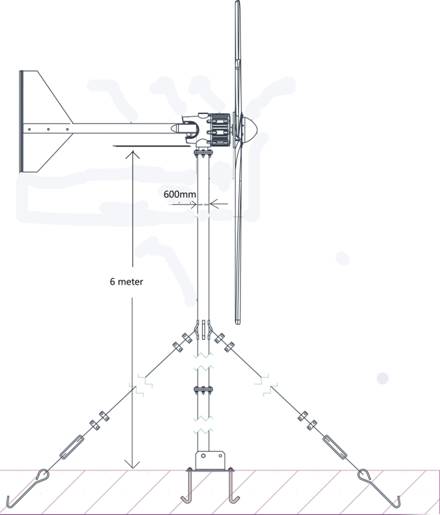 Battery bank
This off grid system should use 2 pieces of 12V/200Ah batteries.  The user should buy from local market.
Packing
Wind Generator in cartons  : 56 x 45 x 23 cm   19kg ; 122 x18 x 15 cm   9 kg

6 m wire guyed tower in bag : 172 x 26x 22 cm  25 kg

Controller packed in carton :  6kg/37x33x22cm

Inverter packed in carton  :  1.2 kg /93 x 63 x 43 mm
Warranty:  2 years
Claims & Return Procedures
In order to be eligible for service under this warranty, the Customer must send us pictures showing his installation of the system in 5 days after the installation.

If any problem takes place within the warranty period, Notification must be provided including a description of the alleged defect, the manner in which the wind turbine was used, the serial number, and the original purchase date in addition to the name, address, and telephone number of the party requesting warranty service.
Note:
Power Curves and Annual Energy: The performance of wind turbine systems is impossible to predict with any certainty due to the variability in the wind from location to location and from year to year. These estimates are based upon the best available information but are given as guidance only and should not be considered as a guarantee.  For a greater level of certainty we would recommend on-site wind speed monitoring for at least a year.
Variation: All values are nominal as there will be some variation in manufactured product.  Specifications subject to change.