.
Grid Tie Solar Power Kit
The Solar-Power-Generator is a revolutionary way of cost saving in renewable energy generation.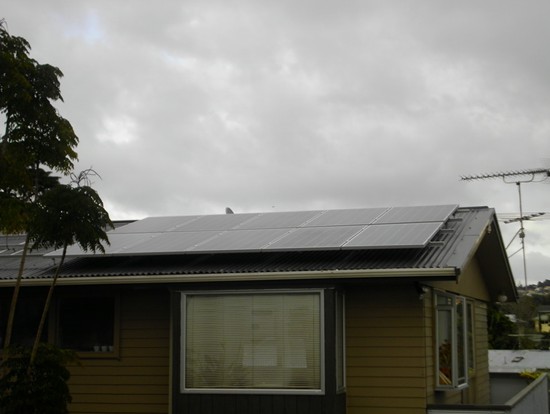 The solar panels produce what's called DC current. A device called an inverter is required to change the DC power generated by your solar system into AC power that most appliances can use.  An inverter is an important piece in your overall solar energy plan.
The solar panels are connected to a grid-tie inverter which is a device that enables solar power users to complement the energy they buy from their electricity supplier with solar power. The inverter converts DC to AC power and sends the extra energy produced back to the utility grid via the electric meter.
At night or during inclement weather all the electricity is supplied by the mains. During the daylight hours, the system generates some power, offsetting the consumption of electricity from the utility and cutting electric bills. The balance of the kWh required by your loads is automatically drawn from the input lines. If the PV panels are producing more electricity than you are using, the system will feed the surplus of the energy back to the utility. It may even spin your electric meter backwards, further reducing your monthly bill.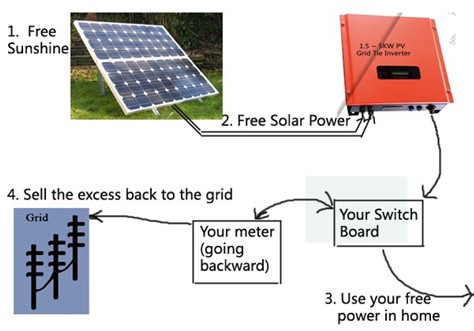 The Solar Kit is easy to set up and plugs straight in to any mains socket just like your kettle. No need for an electrician.
Installation is simple: secure the solar panels to the aluminum stand and connect the ready made cables. Position on your patio, garden or balcony, anywhere the sun shines. No tools or electrical skills are required, not even a screwdriver.
5000 Watt Grid-Tie Solar Power Kit, SG-3KW
This SG-5KW kit Includes:
20 x 250 Watt Framed Solar Panel with 25 year limited warranty.

(Support rack for solar panel can be supplied upon request)

5000 Watt Grid Tie DC to AC Inverter.

30 meter connecting cable.
250W Polycrystalline Solar Panel

ASNM250P-60 Series Polycrystalline Silicon PV Panel

STC: Irradiance 1000 W/m2, 25°C, AM=1.5 according to EN 60904-3)

Module Type

250P-72

Module Efficiency              ŋm(%)

15,37

Cell Efficiency                ŋc(%)

17,54

Power Peak                    Pm(W)

250

Maximum Power Voltage         Vm(V)

30,71

Maximum Power Current         Im(A)

8,14

Open Circuit Voltage            Voc(V)

44,23

Short circuit current              Isc(A)

8,81

Maximum System Voltage         (VDC)

1000

Power output tolerances           ( % )

±3

Max-Series Fuse                  (A)

20

Operating/Storage Temp.          (°C)

-40 ~85

Dielectric Insulation Voltage        (VDC)

3000 max

TEMPERATURE CHARACTERISTICS - STC

NOCT–Nominal Operating Cell Temperature

45±2°C

Pm Temperature Coefficient   (%/°C)

-0.44

Voc Temperature Coefficient  (%/°C)

-0.36

Isc Temperature Coefficient   (%/°C)

0.033

Cell Size                       (mm)

156 x 156

Number of cells

6 x 10 – polycrystalline silicon cell

Module Dimensions              (mm)

1640 x 992 x 40

Module Weight                  (kg)

19

Front Glass

3.2mm tempered glass

Back Cover

TPT(Tedlar-PET-Tedlar)

Frame

Anodized aluminum alloy

Junction box

IP65-6 by-pass diodes serviceable

Connectors

IP67 type MC4

Output Cables                  (mm)

900

Pallet Dimension                (mm)

Pallet Weight                    (kg)

520

1 Pallet

24 modules

Container Loading                (ft)

672modules

Capacity 40'HQ

(28 pallets)
.
5KW Grid Tie Inverter

MODEL

PVGI5000

 Input (DC)

Max. DC power (@ cos ϕ = 1)

5300W

Max. DC voltage

500V

DC nominal voltage

360V

MPP voltage range/DC

150 ~ 450V

Min. DC voltage / start voltage

120V

Max. input current / per string

2 x 15A

Number of MPP trackers

2

Output (AC)

AC nominal power

5000W

Max. AC apparent power

5000VA

AC voltage range

180-270V

AC grid frequency; range

50Hz/60Hz

Nominal output current

21.7A

Power factor (cos ϕ)

0.99

Harmonics

< 3%

Max. efficiency/ CEC efficiency

98%/97%

Protection devices

DC reverse-polarity protection, AC short circuit protection, ground fault monitoring, grid monitoring

General data

Operating temperature range

–25 °C to 60 °C

Humidity

0 ~ 100%RH(No condensing)

Topology

Transformerless

Interfaces

USB/RS232 card

IP degree of protection

IP65

Compliance

CE/VDE0126-1-1/IEC62109/ENEL guide 2009,/ RD1663/G83/1-1/AS3100/AS4777

Warranty

5 years

Shipping Weight/Dimensions   

19kg/18x35x50cm