Wind & Solar Hybrid Charge Controller

FKJA-3000W

Warning:
Controller is for battery charging only. It can only directly connect to battery. You should never connect controller directly to any other devices such as inverters. Connecting controller to inverters or other devices than battery may pose risk of fire hazard and have wind turbine/electrical failure
Description
The FKJA-3000W multifunctional Hybrid Solar/Wind controller combines the functions of AC to DC rectifier and load control for wind and/or solar systems. It eliminates the need for separate rectifier, solar charge controller and wind turbine controller. It is the most cost effective solution for renewable energy systems
The FKJA-3000W hybrid charge controllers is suitable for wind turbine with permanent magnet generator or hydro system with permanent magnet generators, which has a 3-phase AC output within the corresponding voltage range. It rectifies and regulates the generator's 3 phase alternating current in order to be able to charge battery banks in a smooth and safe way. The FKJA-3000W hybrid charge controllers also protects the batteries from over-charging through its dump load techniques
When the battery has reached fully charge state, the excess current from the generator is transferred to a dump load via solid state MOSFETs
Features
_ High Reliability: Efficient ventilation design ensure reliable and efficient operation.
_ Great for hybrid wind/solar system, hybrid controller can support battery charging from simultaneous wind generator load and solar load combined up to 2,600 W.
_ Load control and diversion control: The controller has over-charge protection, short-circuit protection, pole confusion protection and automatic dump-load function. It is reliable with a highly efficient, long service life
Specifications
Model

FKJA-3000W-48

FKJA-3000W-96

FKJA-3000W-240

Rated output power

3000W

Input voltage range

50~58V

100~116 V

200~300V

Rated battery voltage

48 V

96V

240V

Max input wind power

3000W

Max input solar power

900 W

Over charge protection

59V±0.5V

118V±0.5V

300V±0.5V

Recommended battery

48VDC/200AH

96VDC/200AH

240VDC/200AH

Rated Wind Turbine
Maximum Input Current

100 A

50A

23A

Protection Function

Over charge, battery reverse-connection Solar cells reverse charging, battery reverse, over load, load short-circuit, lighting, wind turbine current limiting, wind turbine automatic brake and manual brake.

Self Consumption

< 10 mA

Size

440 x 430 x 270mm 10 kg
440 x 430 x 100mm 6 kg
Installation
Warning :
Before proceeding to the installation, make sure that the wind generator's shaft is NOT spinning(the 3 phase generator is NOT generating electricity)
Open the cover on the back by removing the screws(see the picture).

Connect the wind generator 3-phase AC wires to controller's "Wind" terminals (no sequence).
Connect solar panel to "Solar" terminals on the controller. Skip this step if solar panel is not used. Make sure the positive & negative terminals of solar panel are connected to positive & negative solar terminals on the controller. (Please check polarity is correct). Solar panel must be rated 48V for 48V controller, solar panel must be rated 96V for 96V controller. Higher voltage solar panel will damage the controller or cause controller malfunction.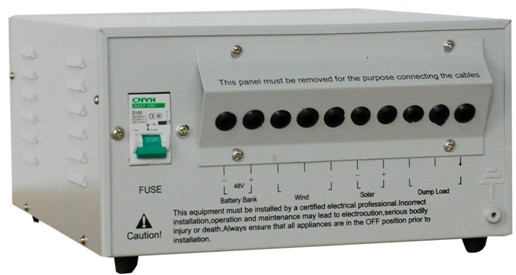 3. Connect battery to "Battery Bank" terminals; make sure the positive & negative poles of battery are connected to positive & negative battery terminals. (Please check
polarity is correct). Properly sized circuit breaker must be installed between controller and battery to prevent wind turbine freewheeling and battery short-circuit.
4.Connect the dump load to "Dump Load" terminals
5.Install back the cover
Note:
Output voltage of some solar panels is much higher than 12V or 24V, and this may trigger the dump load early. Please make sure the maximum output voltage of solar panels is below 56Vfor 48V controllers and below 112V for 96V controllers.