0086-0512-62901304

0086-0512-62901305
0086-0512-62901305


lzmjmx
lzm@yueniao.com

zzl@yueniao.com

alnew@yueniao.com

Suzhou Yueniao Machinery&Electronics Imp&Exp Co Ltd
5KW Off Grid Wind Generator

WFD5KW
Introducing WFD5KW:A wind generator with beautiful shape, safe, portable and reliable. It is especially designed to meet the demand from individual householders for a renewable energy source.
The WFD5KW is used to charge 120V or 240V batteries. Equipped with suitable DC to AC inverter, it is capable of supplying power for:Refrigeration, Electric fan, Lights, Air conditioner , Communication equipment.
When used in conjunction with a suitable Grid Tie inverter WFD5KW can also be connected to the power grid.
Features:

Reliable passive self furling
Autobrake slows down the blades spin when the batteries are charged
Marine quality powder coated aluminium body, water tight housing
Iron Boron Neodymium magnet alternator
Reliability: The design of the body efficiently flows excess heat into the wind reducing operating temperature
Two years warranty; operational life expected to be in excess of 15 years.

Model

WFD5KW

Rated  Power

5 KW at wind speed 10m/s

Max  Power

7 KW

Voltage Options

96V, 120V,240V & Grid Tie

Start Wind Speed

3m/s

Rated Wind  Speed

10m/s

MAX WIND SPEED

45m/s

Cut-Out Wind Speed

13m/second

Survival Wind Speed

45m/s

Kilowatt Hours Per Month

770 kWh/month /average 5.8m/s

Over speed Protection

Auto Furl and Dump Load

Temperature Range

-30°C~60°C

Rotor Diameter

4.80  m

Swept Area

18.08 m2

Rotor speed at 5KW power

280 rpm

Blade number

3

Blade material

Reinforced fibreglass

Rotor thrust(at 20 meters/second)

3,950 Newton

Generator

3 phase Neodymium permanent magnet

Noise

Max 4-7 dBA above background

Tower Top Weight

163 kg
5KW Wind Solar Charge Controller              Dump load

Model

HD-5000W-120

HD-5000W-240

Rated output power

5000W

Input voltage range

120~150V

240~300 V

Rated battery voltage

120 V

240V

Max input wind power

5000W

Max input solar power

1500 W

Over charge protection

150V±0.5V

300V±0.5V

Recommended battery

120V/200AH

240V/200AH

Maximum Input Current

50 A

25A

Protection Function

Over charge,  battery reverse-connection  Solar cells reverse charging, over load, load short-circuit, lighting, wind turbine automatic and manual brake.

Self Consumption

< 10 mA

Shipping Weight/Dimension

Controller :  590 x 490 x 315 mm  23kg
Dump load :  660 x 510 x 450 mm   31kg
5KW Off Grid inverter(optional)

Model

PI-5000-48

PI-5000-96

Output power

5KW continuous power/10KW peak power

Output voltage

100/110/120/220/230/240VAC

Optimum efficiency

up to 95%

No-load draw

<1.2 A

Output wave form 

Pure Sine Wave

Input voltage range

42~60VDC

85~120VDC

Over voltage shutdown

61.2V

122V

Under voltage shutdown

42V

85V

Over load shutdown

7500W

Low voltage alarm

Audible

Protection

Over voltage shutdown, Under voltage shutdown, Low voltage alarm, Over load shutdown, Thermal shutdown, Short circuit shutdown

AC receptacle

3 x 3 prong receptacles

Warranty

3 year

Shipping Weight/Dimension

30 kg/560 x 240 x 550 mm
12 meter wire guyed tower(optional)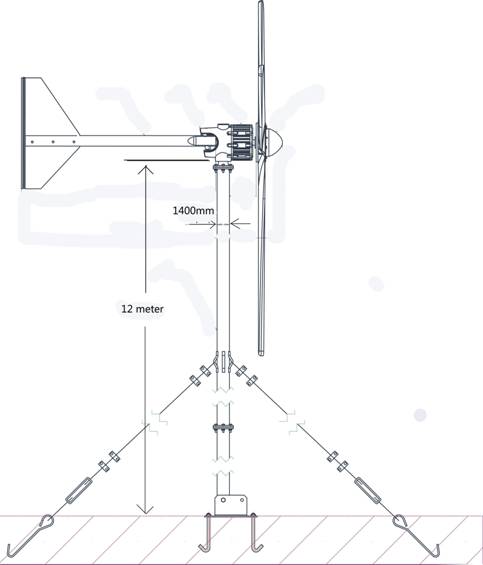 Battery bank
This off grid system should use 8 pieces of 12V/200Ah batteries.
Maintenance free Lead Crystal Battery
New Technology
The invention of the lead crystal battery is a breakthrough in battery history. Based on the composite electrolyte and proprietary intellectual property rights, makes the reaction of the electrolyte formation caused the forming for the crystal state.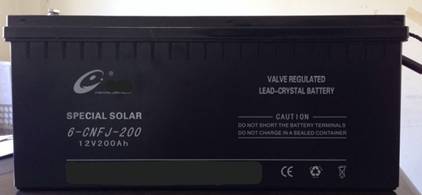 Advantages
1. Ideal green and environmental protection battery.
Lead crystal battery is using special SIO2 composite electrolyte to replace the sulfuric acid solution of traditional lead-acid battery. The electrolyte is non-toxic, non-smell, to surrounding environment.
2. Excellent high and low temperature operating characteristics
Working temperature from -40°C~65°C
3. Easy for depth discharge
Working life of is no effected by the general over-discharge.   Excellent recovery capacity of charge-discharge.
5. Long working life
Lead crystal battery can work for 10 to 15 years,  and charging time is 25% faster than normal lead-acid batteries and gel batteries.
| | |
| --- | --- |
| Item | 6-CNFJ-200 |
| Nominal Voltage | 12V |
| Nominal Capacity | 200Ah |
| Working Temperature | -40°C~65°C |
| Dimension  | 330 x 172 x 214mm |
| Weight | 62  kg |
| Terminal type | A/F |
| Charge Cycle | 1000 |
| Working Life | 10 – 15 years |
Packing
1. Wind Generator, plywood case 1:      66 x 44 x 52 cm    78 kg
                             Plywood  Case 2:    234 x 28 x 44 cm  19 kg
2. 12 m wire guyed tower, bag        :    305 x 42x 42 cm  128 kg
3. Controller,   carton 1                    :    59 x49 x 32 cm   22 kg
Carton 2                   :     67 x 51 x 45 cm    26 kg
4. Inverter,    Plywood case            :     56 x 30 x 12      15 kg
Electrical Installation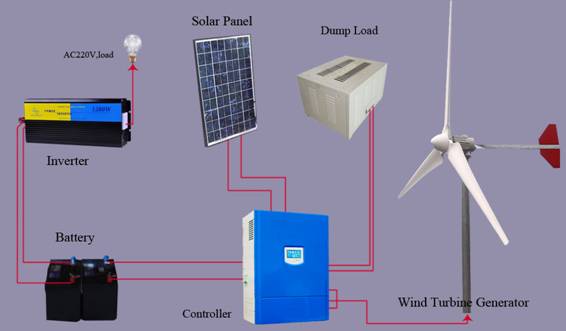 Warranty:  2 years
Claims & Return Procedures
In order to be eligible for service under this warranty, the Customer must send us pictures showing his installation of the system in 5 days after the installation.

If any problem takes place within the warranty period, Notification must be provided including a description of the alleged defect, the manner in which the wind turbine was used, the serial number, and the original purchase date in addition to the name, address, and telephone number of the party requesting warranty service.
Note:
Power Curves and Annual Energy: The performance of wind turbine systems is impossible to predict with any certainty due to the variability in the wind from location to location and from year to year. These estimates are based upon the best available information but are given as guidance only and should not be considered as a guarantee.  For a greater level of certainty we would recommend on-site wind speed monitoring for at least a year.
Variation: All values are nominal as there will be some variation in manufactured product.  Specifications subject to change.