10KW Single Phase Off-Grid Wind/Solar Hybrid System
HY-10KW, 5KW wind & 5KW solar
.
A "hybrid" electric system that combines wind and solar technologies offers several advantages over either single system.
In many regions worldwide, wind speeds are relatively lower in the summer when the sun shines brightest and longest. The wind is strongest in the winter when less sunlight is available due to shorter days.  Even during the same day, in many regions worldwide, there are different and opposite wind and solar resource patterns.
Because the peak operating times for wind and solar systems occur at different times of the day and year, hybrid systems are more likely to produce electricity consistently throughout the year.  It combines the best of both worlds !
Our hybrid systems are a combination of stand-alone wind systems. For the times when neither the wind nor the solar system is producing, our hybrid systems provide power through batteries.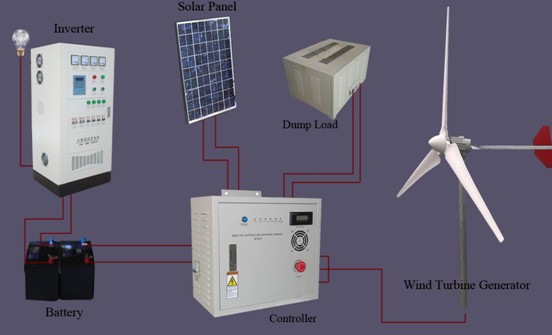 Performance: 1,200 - 1,630 AC Kilowatt-hours (kWh's) per month (depending on wind and solar resources)
This system includes:
1 set of WFD5KW/192V wind turbine generator with 12m tower

20 pieces of 250W/24V solar panel

1 pc of 10 KW Wind/Solar Hybrid Controller HD-10KW-192

1 pc of 10 KW pure sine wave inverter PI-10KW-192

16 pc of 12V/150Ah battery
5KW Wind Turbine Generator

Model

WFD5KW

Rated  Power

5 KW at wind speed 11m/s

Max  Power

6 KW

Voltage Options

96V, 120V,240V & Grid Tie

Start Wind Speed

3m/s

Rated Wind  Speed

11 m/s

MAX WIND SPEED

45m/s

Cut-Out Wind Speed

12m/second

Survival Wind Speed

45m/s

Kilowatt Hours Per Month

770 kWh/month /average 5.8m/s

Over speed Protection

Auto Furl and Dump Load

Temperature Range

-30°C~60°C

Rotor Diameter

4.80  m

Swept Area

18.08 m2

Rotor speed at 5KW power

280 rpm

Blade number

3

Blade material

Reinforced fibreglass

Rotor thrust(at 20 meters/second)

3,950 Newton

Generator

3 phase Neodymium permanent magnet

Noise

Max 4-7 dBA above background

Warranty

3 year

Tower Top Weight

163 kg
.
250W Polycrystalline Solar Panel

ASNM250P-60 Series Polycrystalline Silicon PV Panel

STC: Irradiance 1000 W/m2, 25°C, AM=1.5 according to EN 60904-3)

Module Type

250P-72

Module Efficiency              ŋm(%)

15,37

Cell Efficiency                ŋc(%)

17,54

Power Peak                    Pm(W)

250

Maximum Power Voltage         Vm(V)

30,71

Maximum Power Current         Im(A)

8,14

Open Circuit Voltage            Voc(V)

44,23

Short circuit current              Isc(A)

8,81

Maximum System Voltage         (VDC)

1000

Power output tolerances           ( % )

±3

Max-Series Fuse                  (A)

20

Operating/Storage Temp.          (°C)

-40 ~85

Dielectric Insulation Voltage        (VDC)

3000 max

TEMPERATURE CHARACTERISTICS - STC

NOCT–Nominal Operating Cell Temperature

45±2°C

Pm Temperature Coefficient   (%/°C)

-0.44

Voc Temperature Coefficient  (%/°C)

-0.36

Isc Temperature Coefficient   (%/°C)

0.033

Cell Size                       (mm)

156 x 156

Number of cells

6 x 10 – polycrystalline silicon cell

Module Dimensions              (mm)

1640 x 992 x 40

Module Weight                  (kg)

19

Front Glass

3.2mm tempered glass

Back Cover

TPT(Tedlar-PET-Tedlar)

Frame

Anodized aluminum alloy

Junction box

IP65-6 by-pass diodes serviceable

Connectors

IP67 type MC4

Output Cables                  (mm)

900

Pallet Dimension                (mm)

Pallet Weight                    (kg)

520

1 Pallet

24 modules

Container Loading                (ft)

672modules

Capacity 40'HQ

(28 pallets)
.
Hybrid Controller HD-10KW and Dump load

Model

HD-10KW-192

Rated output power

10 KW

Input voltage range

100~350 V

Rated battery voltage

192V

Max input wind power

6 KW

Max input solar power

6 KW

Over charge protection

150V±0.5V

Recommended battery

120VDC/200AH

Maximum Input Current

50A

Protection Function

Over charge,  battery reverse,  Solar cells reverse, battery reverse, over load, load short-circuit, lighting, wind turbine current limiting, wind turbine automatic brake and manual brake.

Self Consumption

< 10 mA

Warranty

3 years

Shipping Weight/Dimension

Controller :  560 x 400 x 240          22KG
Dump load :  690 x 450 x 530 mm     35kg
.
.
10KW Power Inverter(PI-10KW-192), single phase

Model

PI-10KW-96

PI-10KW-192

Output power

10KW continuous power/30KW peak power

Output voltage

Single Phase,  220VAC

Optimum efficiency

up to 92%

No-load drawing

< 2 A

Output wave form 

Pure Sine Wave

Rated input voltage

96V DC

192V DC

Input voltage range

88~120VDC

160~240VDC

Input current(A)

85

45

Over voltage shutdown

125V

245V

Under voltage shutdown

76V

155V

Over load shutdown

15KW

Low voltage alarm

Audible

Total Harmonic

<5%(line load)

Operating temperature

-25~+60℃

Protection

Over voltage, Low voltage alarm, Over load, Over heat, Short circuit

Electrical insulation properties

1500Vac, 1 minute

Warranty

3 year

Shipping Weight/Dimension

93 kg/550 x 480 x 1100 mm
.
Maintenance free Lead Crystal Battery
New Technology
The invention of the lead crystal battery is a breakthrough in battery history. Based on the composite electrolyte and proprietary intellectual property rights, makes the reaction of the electrolyte formation caused the forming for the crystal state.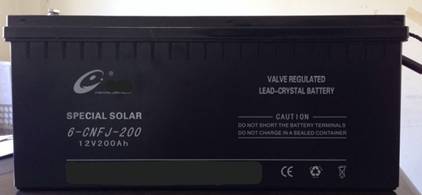 Advantages
1. Ideal green and environmental protection battery.
Lead crystal battery is using special SIO2 composite electrolyte to replace the sulfuric acid solution of traditional lead-acid battery. The electrolyte is non-toxic, non-smell, to surrounding environment.
2. Excellent high and low temperature operating characteristics
Working temperature from -40°C~65°C
3. Easy for depth discharge
Working life of is no effected by the general over-discharge.   Excellent recovery capacity of charge-discharge.
5. Long working life
Lead crystal battery can work for 10 to 15 years,  and charging time is 25% faster than normal lead-acid batteries and gel batteries.
| | |
| --- | --- |
| Item | 6-CNFJ-200 |
| Nominal Voltage | 12V |
| Nominal Capacity | 200Ah |
| Working Temperature | -40°C~65°C |
| Dimension  | 330 x 172 x 214mm |
| Weight | 62  kg |
| Terminal type | A/F |
| Charge Cycle | 1000 |
| Working Life | 10 – 15 years |
.
Warranty :  10 years for solar panel and 3 years for the rest of the system
Claims & Return Procedures
In order to be eligible for service under this warranty, the Customer must send us pictures showing his installation of the system in 5 days after the installation.

If any problem takes place within the warranty period, Notification must be provided including a description of the alleged defect, the manner in which the wind turbine was used, the serial number, and the original purchase date in addition to the name, address, and telephone number of the party requesting warranty service.
.
Note:
Power Curves and Annual Energy: The performance of wind turbine systems is impossible to predict with any certainty due to the variability in the wind from location to location and from year to year. These estimates are based upon the best available information but are given as guidance only and should not be considered as a guarantee.  For a greater level of certainty we would recommend on-site wind speed monitoring for at least a year.
Variation: All values are nominal as there will be some variation in manufactured product.  Specifications subject to change.
.
.