Wind Generator, Off Grid

WFD200W
Introducing WFD200W -  A 200W wind generator with beautiful shape, safe, portable and reliable.  It is a small wind turbine with 1.65 m diameter rotor and can be used on land or on larger vessels.   WFD200W is used to charge 12V or 24V battery systems.  It includes a 200W battery charge controller regulator which will auto brake the turbine and stop charging when the batteries are charged full. 
WFD200W is low noise.  The reliable Auto Furl function will slow down the turbine down in high winds, reducing noise and mounting system loads.
Features :
Reliable passive self furling when in storm.

Autobrake slows down the blades spin when the batteries are charged

Marine quality powder coated aluminum body,  water tight housing

Smooth running of the rotor because of good balance of the blades.

Low noise.

Reliability: The design of the body efficiently flows excess heat into the wind reducing operating temperature
Two year warranty; operational life expected to be in excess of 15 years
Model

WFD200W

Power

200W at rated wind speed  

MAX POWER

300W

Kilowatt Hours Per Month

 25 kWh/month /average 5.8 m/s

OUTPUT  DC VOLTAGE

12V or 24V

START WIND SPEED

2.5 m/s

RATED WIND SPEED

10 m/s

SURVIVAL WIND SPEED

40 m/s

Cut-Out Wind Speed

12 m /s

Over speed Protection

Auto Furl

Kilowatt hours per month

38 KWh/mon at 5.4 m/s

Temperature Range

-30°C~60°C

ROTOR Diameter

1.65 m

Swept Area

2.14 m2

Rotor speed

600rpm

Blade material

Aluminum Alloy

Generator

3 phase permanent magnet alternator

Noise

Max 1-4 dBA above background

Tower Top Weight

21 kg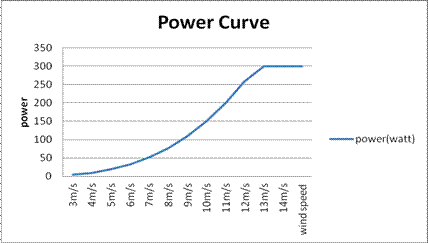 Model

BC200W-12

BC200W-24

Rated output power

200W

200W

Input voltage range

16~14 V

12~28 V

Rated battery voltage

12 V

24 V

Max input wind power

300W

300W

Over charge protection

15 V±0.5V

30 V±0.5V

Recommended battery

1 pc of 12V /150AH

2 pc of 12V /150AH

Wind Turbine
Maximum Input Current

25 A

12 A

Protection Function

Over charge,  battery reverse-connection ,   load short-circuit, wind turbine automatic brake.

Size

230 x 120 x 70 mm

230 x 120 x 70 mm

Weight

1  kg

1  kg
300W Off Grid Inverter( optional )

Model

PI-300-12

PI-300-24

PI-300-48

Output power

300 watts  continuous power/600 watts peak power

Output voltage

100/110/120/220/230/240VAC

Optimum efficiency

>85%

No-load draw

<0.5A

Output wave form 

Pure Sine Wave

Input voltage range

10~15VDC

21~30VDC

42~60VDC

Over voltage shutdown

15.5V

30.5V

61.2V

Under voltage shutdown

9.5V

19.5V

42V

Over load shutdown

120%

Low voltage alarm

Audible

Protection

Over voltage shutdown, Under voltage shutdown, Low voltage alarm, Over load shutdown, Thermal shutdown, Short circuit shutdown

AC receptacle

1 x 3 prong receptacles

Shipping Weight/Dimension

1kg/150 x 130 x 52 mm
6 meter height wire guyed tower (optional)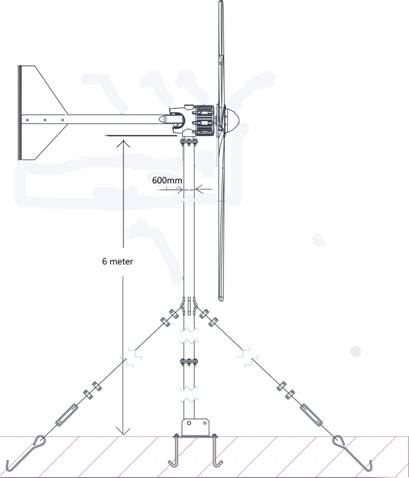 Battery bank
This off grid system should use 1 piece of 12V/200Ah batteries.  The user should buy from local market.
Packing
Wind Generator in cartons  :  15 kg /54x40x23 cm; 9 kg /122x12x12 cm

6 m wire guyed tower in bag :  25 kg/ 172 x 26x 22 cm

Controller packed in carton :   2 kg/8×16×10 cm

inverter packed in carton   :  1kg/160 x 55 x 96 mm
Wiring

Warranty:  2 years
Claims & Return Procedures
In order to be eligible for service under this warranty, the Customer must send us pictures showing his installation of the system in 5 days after the installation.

If any problem takes place within the warranty period, Notification must be provided including a description of the alleged defect, the manner in which the wind turbine was used, the serial number, and the original purchase date in addition to the name, address, and telephone number of the party requesting warranty service.
Note:
Power Curves and Annual Energy: The performance of wind turbine systems is impossible to predict with any certainty due to the variability in the wind from location to location and from year to year. These estimates are based upon the best available information but are given as guidance only and should not be considered as a guarantee.  For a greater level of certainty we would recommend on-site wind speed monitoring for at least a year.
Variation: All values are nominal as there will be some variation in manufactured product.  Specifications subject to change.