30KW Grid Tie Wind Generator
WFDG30
Reduce or Eliminate Your Electricity Bill
Introducing WFDG30  – A new generation Residential Power Appliance that hooks up to your home to help you reduce or eliminate your monthly electricity costs.
WFDG30 is designed for homeowners looking for a quiet, convenient, affordable way to protect themselves from ever increasing electricity costs.  It includes wind generator, controller with dump load and grid tie inverter.   With no batteries, WFDG30 connects directly to your home.  When the wind is blowing, your home is powered (in part) by WFDG30; when it's not, your home is seamlessly powered by your utility as usual..  If the wind speed is too large, part of the dump load will be connected to the wind turbine to keep the constant power to fed in the utility grid.
And you do not need the most disposable part of a wind power system --- the batteries.
Features :
Reliable passive self furling

Autobrake slows down the blades spin when the batteries are charged

Marine quality powder coated aluminium body, water tight housing

Iron Boron Neodymium magnet alternator.

Reliability: The design of the body efficiently flows excess heat into the wind reducing operating temperature

Two years warranty; operational life expected to be in excess of 15 years.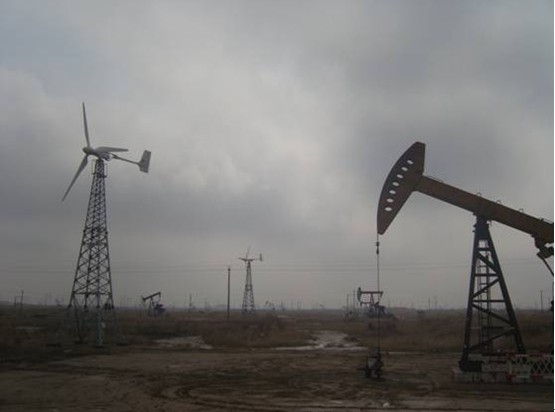 30 KW Wind Generator

Rated  Power

30 KW at wind speed 10m/s

Max  Power

36 KW

Kilowatt Hours Per Month

4,665 kWh/month /average 5.8m/s

Voltage Options

480V, 540V & Grid Tie

Start Wind Speed

3 m/s

Rated Wind  Speed

10 m/s

MAX WIND SPEED

50 m/s

Cut-Out Wind Speed

13 m/second

Blade Pitch Control

None, Fixed Pitch

Over speed Protection

Side furling with gravity return & Manual braking

Temperature Range

-30°C~60°C

Rotor Diameter

12 m

Swept Area

113 m2

Rotor speed

180 rpm

Blade number

3

Blade material

Reinforced fibreglass

Noise

Max 5-8 dBA above background

Generator

3 phase permanent magnet alternator

Tower Top Weight(kg)

1600
30KW Grid tie controller and Dump load

Electrical Specifications

Max. wind generator voltage

600V

Input voltage range

200~600V AC

Rated output voltage

540V DC

Max. output current

55 A

Typical idle consumption

<500mA

Regulation Voltage

600V DC

Electronic Protections

Reverse Polarity, Short Circuit, Over current, High Temperature.

Mechanical Specifications

Dimension
570 x 550 x 330 mm
Dump load 810 x 590 x 1405 mm
Net weight
32 kg, dump load 140kg
Operating Temperatures
– 20°C to +60°C
Humidity
80%
30KW Grid tie inverter

Model

BNWG-30KS

Input data

Recommended generator power

30 KW

Rated operating voltage

200 V

Max. DC voltage

780 V

DC voltage

200 V

Max. input ?current

150 A

Input DC voltage range(VDC)

200-780 V

Thermally monitored varistors

Yes

Output date

Max. AC power

30 KW

Rated AC power

36 KW

Harmonic distortion of grid current

<3%

Rated AC voltage

380 VAC

Rated AC frequency

50 Hz/60 Hz

Short –circuit proof

Yes

Others

Max. Efficiency

94 %

Power Factor(PF)

≥0.99

Overload ability

150%, 10 seconds

Protection degreee

IP65

Insulation intensity(input and output)

1500VAC, 1 minute

Noise(1meter)

≤50dB

Operation temperature

-25℃-+55℃

Size(L×W×H mm)

800 x 600 x 1800 mm

Weight

400 kg

Protection

Over voltage shutdown, Under voltage shutdown, Low voltage alarm, Over load shutdown, Thermal shutdown, Short circuit shutdown.Reverse polarity shut down
Electrical Installation
Errors expected and possible alternations without prior notice.
Warranty:  2 years
Claims & Return Procedures
In order to be eligible for service under this warranty, the Customer must send us pictures showing his installation of the system in 5 days after the installation.

If any problem takes place within the warranty period, Notification must be provided including a description of the alleged defect, the manner in which the wind turbine was used, the serial number, and the original purchase date in addition to the name, address, and telephone number of the party requesting warranty service.