Grid-tied Solar System With Battery Backup
SGBB-2 KW
This type of system is for those want protection from blackouts and other power loss but still want to be connected to the grid.
This system has all of the features and benefits of a standard grid-tied system, but with the additional benefit of uninterruptible power. With this system, you can still take advantage of the net metering, the Solar Rebate program (minus the cost of the batteries), and grid connection benefits.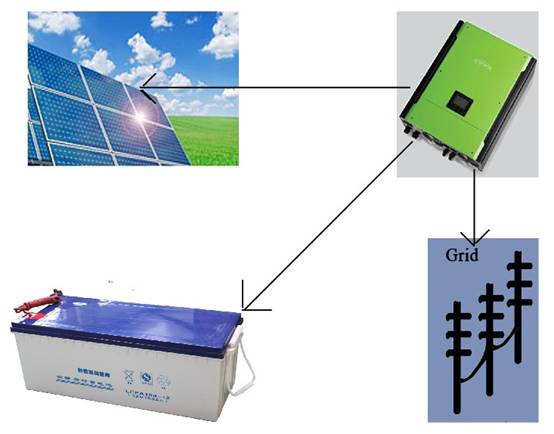 With the battery backup, you are still connected to the grid as with the standard grid-tied system, But when the utility grid is down - the battery backup kicks in and delivers power to critical appliances and electrical devices (refrigerator, radio, electric heater, computers, etc.) when you need it most.
This means that you are protected by blackouts or any other power loss, which can provide peace of mind in a time of uncertainty of our existing electricity infrastructure. However, the battery backup option adds additional cost of the system.
How it works:
1) Sunlight hits the solar module, which is attached to your roof with the mounting racks.
2) The solar (or photovoltaic) cells inside the module then convert the light into electricity.
3) This electricity travels through wires to the charge controller, which senses battery voltage and regulates battery charging - the electricity is then used to keep the batteries fully charged to ensure uninterruptible power
4) The remaining electricity is then transferred to the inverter, which takes the electricity from the solar module (DC electricity) and converts it into the electricity your home needs to run your appliances, lighting, etc. (AC electricity)
5) This AC electricity then travels to your standard utility breaker box, and is supplied to your new utility net meter - which then of course feeds the electricity both to your home and to the electrical utility grid.
6) In the event of an emergency (blackout or power loss), your system automatically begins to draw power from the backup batteries and converts it into electricity. The Backed-Up AC Service Panel feeds into the appliances and other electrical needs you deem necessary in the event of power loss.
The main components of this system are:
8 pc of 250W Solar modules 250P-60

8 sets of Mounting racks

2KW Solar Grid Tie Inverter/charger, InBack 2KW

4 x 12V/200Ah Battery bank
ASNM250P-60 Series Polycrystalline Silicon PV Panel

ELECTRICAL  FEATURES

STC: Irradiance 1000 W/m2, 25°C, AM=1.5 according to EN 60904-3)

Module Type

250P-60

Module Efficiency              ŋm(%)

15,37

Cell Efficiency                ŋc(%)

17,54

Power Peak                    Pm(W)

250

Maximum Power Voltage         Vm(V)

30,71

Maximum Power Current         Im(A)

8,14

Open Circuit Voltage            Voc(V)

44,23

Short circuit current              Isc(A)

8,81

Maximum System Voltage         (VDC)

1000

Power output tolerances           ( % )

±3

Max-Series Fuse                  (A)

20

Operating/Storage Temp.          (°C)

-40 ~85

Dielectric Insulation Voltage        (VDC)

3000 max

TEMPERATURE CHARACTERISTICS - STC

NOCT–Nominal Operating Cell Temperature

45±2°C

Pm Temperature Coefficient   (%/°C)

-0.44

Voc Temperature Coefficient  (%/°C)

-0.36

Isc Temperature Coefficient   (%/°C)

0.033

Cell Size                       (mm)

156 x 156

Number of cells

6 x 10 – polycrystalline silicon cell

Module Dimensions              (mm)

1640 x 992 x 40

Module Weight                  (kg)

19

Front Glass

3.2mm tempered glass

Back Cover

TPT(Tedlar-PET-Tedlar)

Frame

Anodized aluminum alloy

Junction box

IP65-6 by-pass diodes serviceable

Connectors

IP67 type MC4

Output Cables                  (mm)

900

Container Loading            

20GP : 348 pc,    40HQ : 700 pc
2KW Back Up Grid Tie Inverter/Charger

Models

InBack 2KW

Nominal DC Input Voltage

360VDC

Continuous Power Rating at 25°C

2000 KW

AC Voltage/Frequency

220VAC 50 Hz

MPPT Voltage Range

150 ~ 320VDC

Maximum Input Current

15 amps DC

Idle Power

10 Watts

Typical Efficiency

93%

Total Harmonic Distortion

2%

Output Voltage Regulation

±2%

Maximum Output Current

18 amps AC

AC Overload Capability

Surge 4000 W;   5 second  3200W

AC Input Current Maximum

30 amps AC

Sell Back Voltage Range

208 to 232 VAC

AC Input Frequency Range

49.3 to 59.5 Hz

DC Input Voltage Range

42 to 68 VDC

Continuous Battery Charge Output

25 amps DC

Operating Temperature Range

-40°C~60°C

Warranty

Standard 2 year/Optional 5 year Standard

Shipping Weight/Dimensions

16 kg/ 170 x 415 x 420mm

Certificate

CE, VDE-AR-N 4105, VDE 0126-1-1
Maintenance Free Lead Crystal Battery
12V/200AH
New Technology
The invention of the lead crystal battery is a breakthrough in battery history. Based on the composite electrolyte and proprietary intellectual property rights, makes the reaction of the electrolyte formation caused the forming for the crystal state.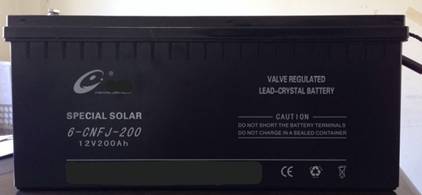 Advantages
1. Ideal green and environmental protection battery.
Lead crystal battery is using special SIO2 composite electrolyte to replace the sulfuric acid solution of traditional lead-acid battery. The electrolyte is non-toxic, non-smell, to surrounding environment.
2. Excellent high and low temperature operating characteristics
Working temperature from -40°C~65°C
3. Easy for depth discharge
Working life of is no effected by the general over-discharge.   Excellent recovery capacity of charge-discharge.
5. Long working life
Lead crystal battery can work for 10 to 15 years,  and charging time is 25% faster than normal lead-acid batteries and gel batteries.
| | |
| --- | --- |
| Item | 6-CNFJ-200 |
| Nominal Voltage | 12V |
| Nominal Capacity | 200Ah |
| Working Temperature | -40°C~65°C |
| Dimension  | 330 x 172 x 214mm |
| Weight | 62  kg |
| Terminal type | A/F |
| Charge Cycle | 1000 |
| Working Life | 10 – 15 years |
Mounting  Racks