Introduction
In areas where sunshine is plentiful and conventional fuels are expensive, like the coast or the sierra of Peru, the solar cooker is an ideal complement to a regular stove. It is cheap, easy to use and requires no fuel. The cooker works by concentrating the power of the sun onto a small area in which a pot or other implement is placed. Under strong sunlight, a litre of tap water can be brought to a rolling boil in about 10 minutes.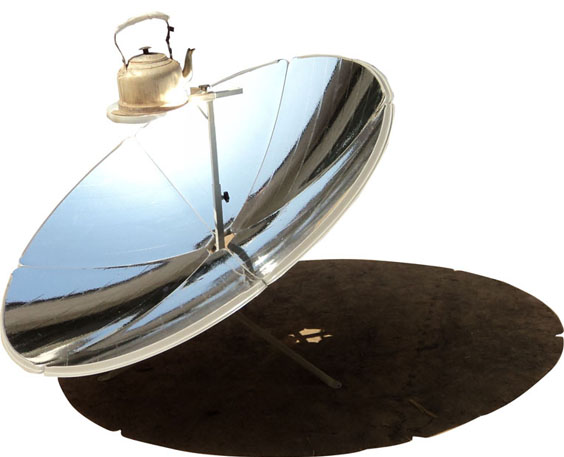 The solar cooker consists of 3 main parts. A parabolic reflector serves to concentrate more than one square metre of sunlight into an area about 17 cm in diameter. The control arm allows the reflector to be set facing the sun and holds the pot at the focal point regardless of the reflector tilt angle. The stand holds the other two components together and allows the cooker to be rotated to follow the sun as it moves across the sky.
A parabolic is used quite differently than the solar box cooker or solar panel cooker, mainly because it functions more as a stove top burner than an oven.
A solar parabolic cooker can reach extremely high temperatures, very quickly thus producing the possibility of burning the food if left unattended for any length of time.
But if used properly the parabolic will produce great cooking results and replace the need to turn on your stove top kitchen range burners.
Description
The "Solar Stove" is a mid size parabolic designed for most efficient cooking results.
The solar stove has a diameter of 1.5 meter, which produces a high output of energy (heat) for very efficient cooking, yet is not too large in diameter that one would have much trouble reaching the cooking plate.
The focus point of the sun's rays comes together at about thirty inches from, and above, the middle of the parabola.
Each of the six rigid, molded steel panels that form the parabola is covered with an adhesive backed reflective aluminize which is quite durable, yet easily repaired or replaced if ever damaged or worn. The reflective film on this solar cooker is the key, or means to the parabolic being able to concentrate the energy from the rays of the sun.
The parabolic is supported by a circular stand (base) and has an easily adjusted crank extension arm to move the elevation tracking of the parabolic up and down, and the whole cooker swivels on its base, allowing for side to side tracking of the sun.
Unlike the solar ovens and panel cookers, there are no darkened pots that come included with the "Solar Stove" parabolic cooker, because in reality there is no need for a "special" pot or pan.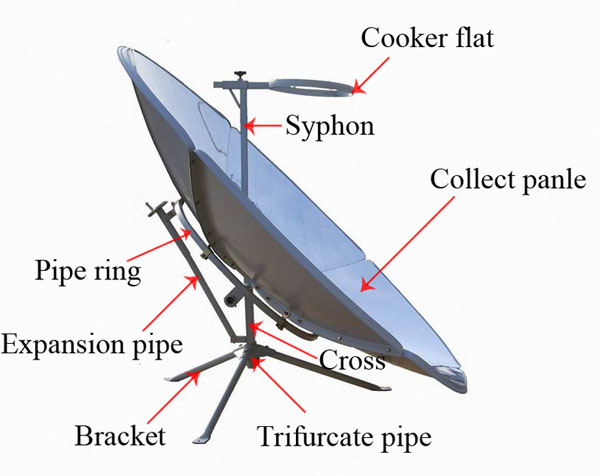 Specifications:
Shallow Parabola
Focus length 57 cm.
1800 watts power on sunny day
Focus area 1.8 square meters
Focal spot temp 800 C°+-
Diameter 1.5 meters across
Weight:16 kg